blueprints | roof membrane
As crazy it can be : most cases I would go with a fireproof membrane. It's guaranteed for 8-10 years bare minimum and it costs slightly more than a pond liner. Extremely flexible and strong.
These membranes are way safer. Normal roofing: be it metal sheets, ceramics or Canadian style tiles … they burn. The wood under them. Isn't it? Our beam is a charred wood. … 2/3 of it embedded in batt insulation or rockwool and ferrocrete.
Fire isn't impossible but highly unlikely. In this case we speak about the roof. Anyways I would use the fog system …even at concrete or brick houses. That stops fire on an instant.
The roof is extremely durable and cheap. Changing the membrane in every decade can be done under 2 hours. And it cost 2-3 euros per square meter. I am not even considering other methods. I just don't care 🙂 Literally. The only thing I won't debate … being right or not :))) Religiously convinced here 🙂
In our case … among the positives would be the ease of access to the electric cables, automation and insulation.
Paying pennies today and having access to all the layers anytime. Plug and play components. It can be changed to a new roof within 2 hours easily. Yes I keep repeating it because it's so good.
It can stay in water all year long on both sides. Sign me up … I am in! Show me a roof that can do that?
A slight modification could manage a green roof. Planting grass or small bushes on it . (That usually costs fortunes). Not with this method.
In principle with these small openings we don't need reinforcement between the beams. The membrane is strong enough.
Look at the google search examples shown above. They have 4-5 meter openings. However in case of a huge snowfall that's last and stays for months.
I would use a rectangular chicken wire or wire mesh reinforcement to strengthen the support. The wire-mesh used for fences. Depends on your climate and snow thickness. I would leave the snow on top. Its built for that.
Eventually some heated wires in the gutter area … so the facade will be protected. It won't sit in the snow for prolonged periods. But that's it.
Cheap and really strong, durable solutions. Easy to do it. As mentioned. This version would work out great with green rooftops. That would cost quite a lot with other methods.
Remember the airflow between membrane and insulation. It dries out everything.
Even if it's an emergency. A leakage overtime … it can be repaired in minutes with a few dollars' worth of materials glue or heat gun. None of the re-painting and crazy workmanship and "craftsman" needed.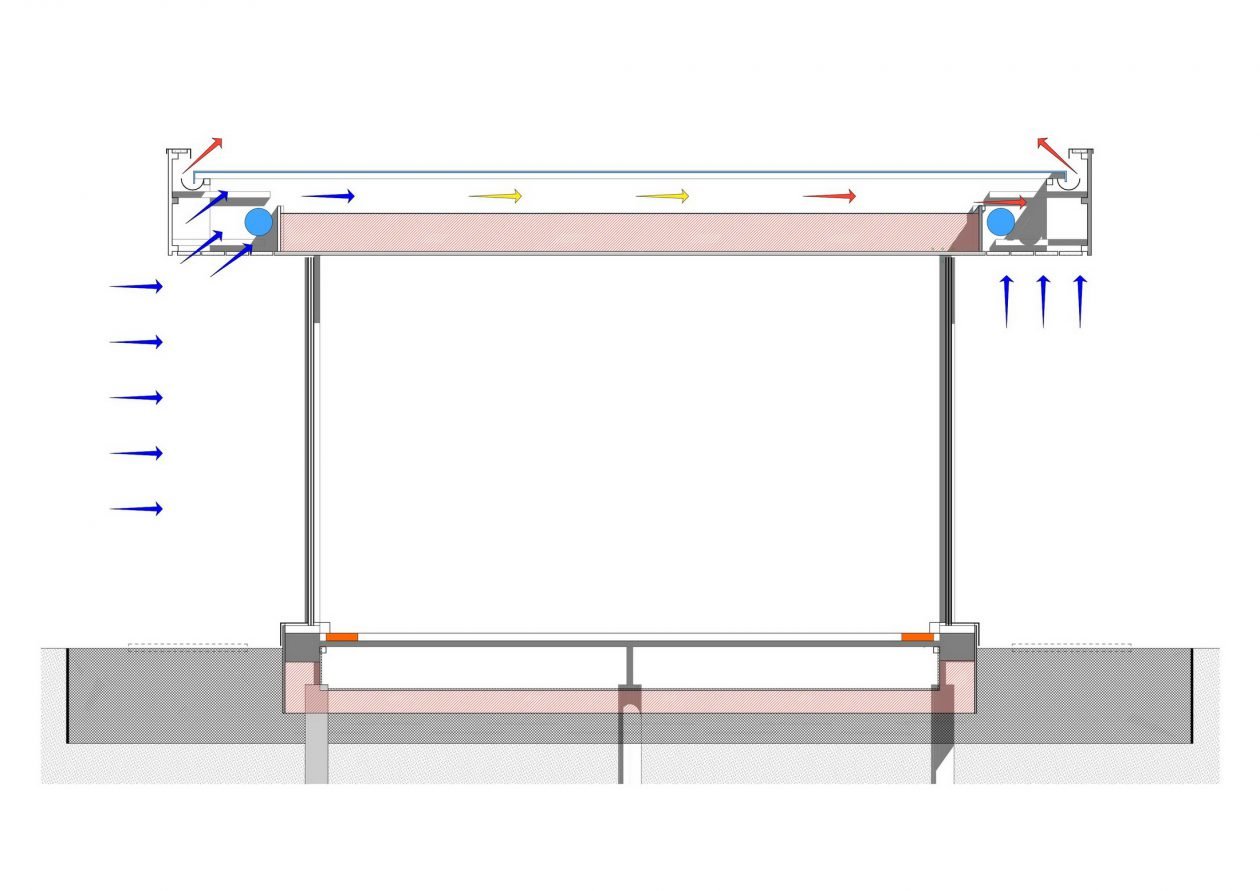 Recap fine points … so here we go again 🙂
Note that the warehouses (google image search mentioned above) have huge openings between frames and they don't have a problem. However a thick layer of snow persists for long we could be a problem. The cheap rectangular chicken wire or / and metal wire mesh could solve the issue. The zinc coating on the wire will prolong the life time.
Use heated wires cables in the gutter to melt the snow. At the end of the roof hanging chains can direct the water to the floor. When it rains the water wont splash but will come down on the cable. Its barely visible this way. The house remains more elegant.
Humidity recap.
Usually under the roof is warmer than in the outside. Warm air will soak up the humidity. The constant airflow underneath the membrane will dry out everything naturally. No mold, asthma or crazy lawsuits from tenants. The problem is they can file a case quite easily and you're the one who has to have all the paperwork to prove you don't have mold. And everything with certified companies. Avoid it at all cost.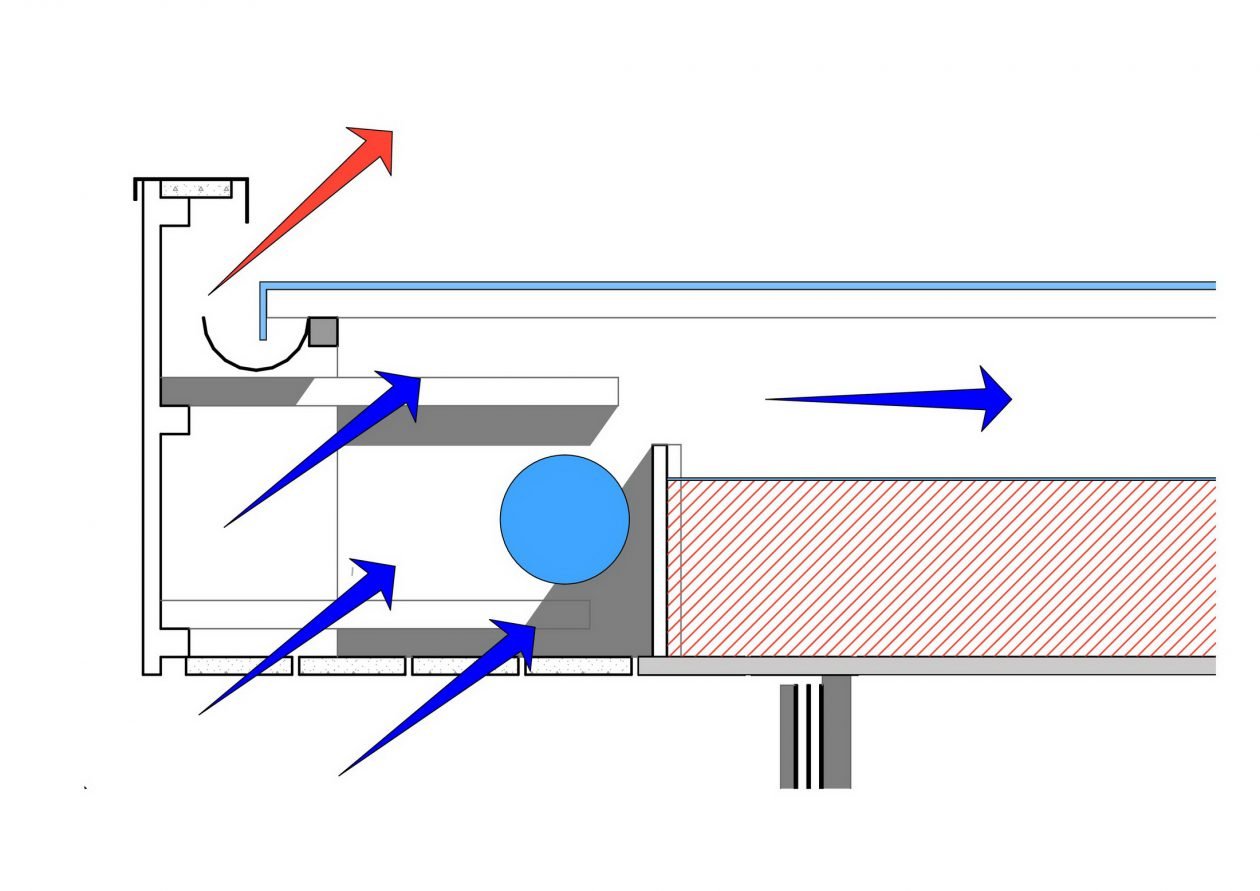 The blue circle represents the rolled up shutter. In case its raining constantly you can role it up slowly. Few inches, cm an hour. It will dry out. Be it canvas or a rubber material.
The complicated stronger version …. as a substitute for the wooden facade could be ferrocene panels. However it makes no sense in a way. But it's a viable option.
For the ceiling I would choose wood. As mentioned before. It's easy to work with and relatively cheap and strong. One layer does it all. Structural and decoration part. Even if in price is "premium" … it wins at the overall investment.
No repainting or vacuum cleaning needed. Now you don't want home automation. But in a year or a decade? Just think about inspecting cables before selling a house. It will increase the prices. Buyer can see the cables.
Keeping it at a "low profile" at first then stepping it up with the smart home part is manageable. So we don't need that much money upfront. No need for loans. Everything can be added easily. Be it the ceiling, walls or floor.